My second layout went up on Sketch Support on Monday! The sketch is fantastic ... and I have some super-cool ideas, but time was an issue and I only finished one layout. I've printed the pictures, and I'll be sure to post the others when I get them done!
So, without further delay .... the sketch! Isn't it great?
Two-page Sketch #24
And here's my take .... these pictures were taken in January 2011. Our pups: Ruff, Tuck and Syd. These pictures are so important to me ... Ruff dashing around ... keeping up with the young pups ... his silky fur flowing in the wind ... and that dopey smile, that's our Ruff. (Ruff's the red and white border collie). Just days after these pictures were taken we lost him to cancer. We had no idea ... how could we know that his time was so limited? This is the way I'm going to remember him.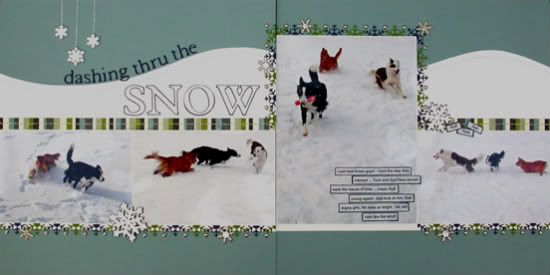 "Dashing Thru The Snow"
by Michele Edwards
Supplies
-
Cardstock:
Cor'dinations, American Crafts, Bazzill, BoBunny;
Patterned Paper:
Pebbles;
Embellishments:
Snowflakes cut with die-namics, snowflakes cut with Cricut (Christmas Cartridge), glamour dust, unknown silver and silver snowflake brads;
Alphabets:
Cricut (Plantin Schoolbook),
Floss:
DMC
Variations
1. I used a 6X8 picture instead of the photoblock on the right page.
2. Instead of the scalloped edge, I used half-snow flakes in alternating blue and green. I used the snowflake edging to frame the focal picture.
3. To add sparkle, I highlighted the snowflake edging with tiny silver brads, randomly using silver snow flake brads. For even more sparkle, I used glamour dust on all the white snow flakes and the word "SNOW" in the title
4. I stitched around the curved edge of the photo mat, and again through the center of the striped strip.
5. I used journal strips rather than a journal block.
The detail shot was not on the Sketch Support post because of the way I saved the file ... it was too small, so anyone looking at it here gets a special surprise! The layout looks really sparkly ... too bad the pictures just don't show it well.
Head over to Sketch Support and check out all the awesome layouts!
http://www.sketchsupport.com/2012/01/two-page-week-part-3.html
It's Add-on week next week, and I'm so happy with the way that's going ... I'm lovin it!