I love all of Allison's sketches ... but I've alway's thought that the add-ons were the most challenging. This is my first add-on as part of the creative team, and I had so much fun with it. I must have made 15 snowmen using different techniques, a little this, or maybe some of that ... and in the end, I fell in love with this guy!
Here's the sketch ...
Add-on Sketch #13
and here's my project ...
"Light Up the Night"
by Michele Edwards
Supplies
-
Cardstock:
Bazzill, BoBunny;
Patterned Paper:
KaiserCraft, BoBunny;
Embellishments:
Snowflakes cut with die-namics and fiskars punch, marvy liquid applique, glamour dust, Offray ribbon, Queen and Company rhinestones, unknown frosty-blue and silver snowflake brads, unknown string of lights;
Alphabets:
Cricut (Plantin Schoolbook), American Crafts Thickers;
Ink:
Copic Markers, Colorbox;
Floss:
DMC;
Sketch:
Sketches for Scrapbooking, Volume 6
I am so in love with my snowman, he's too-cute! I used him to embellish a layout using pictures of Christmas lights in our local park. I started with a sketch from Sketches for Scrapbooking, Volume 6.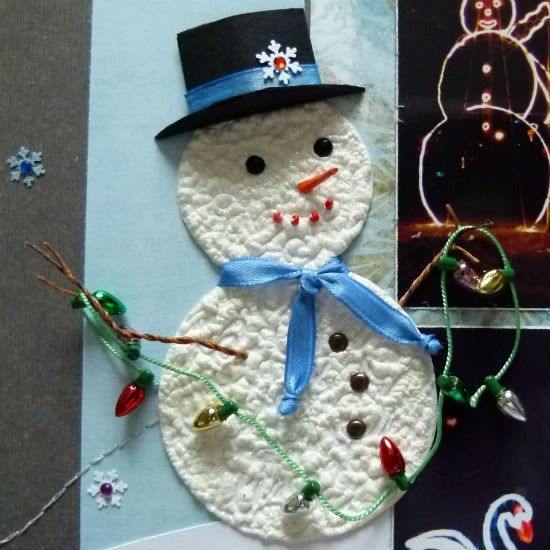 Snowman Variations
1. I covered the snowman's body with the liquid applique, using a swirling motion. Then I sprinkled a thin dusting of glamour dust over the liquid applique before it dried.
2. I used brads for the snowman's eyes and also for his buttons, rolled up orange cardstock for his nose and red seed beads for his mouth. Using two shades of brown floss and a generous helping of white glue, I twisted the floss to create twigs for his arms.
3. I used ribbon for his scarf and put a band of ribbon around his hat. I coloured the ribbon using my copic markers.
4. To further the theme of the layout, I draped a string of Christmas lights over his arms.
Seriously, get over there and check out the funny, sweet and always inspiring projects that the creative team is doing with this sketch!
http://www.sketchsupport.com/2012/01/add-on-week-part-2.html
•••
Next week is one-page sketch week .... what will I dooooooo?
•••••••••••••••••••••