This week, the add on sketch was little flags ... I've only used them once before, but I knew instantly what I would do with them ... so here's the sketch ...
Add-on Sketch #15
And this is my layout ...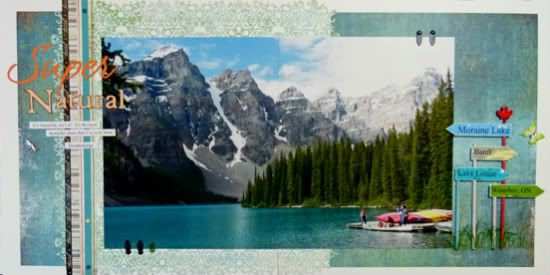 "Super Natural - Moraine Lake"
by Michele Edwards
Supplies
-
Cardstock:
Bazzill;
Patterned paper:
Basic Grey;
Embellishments:
Recollections (Brads);
Ribbon:
unknown;
Alphabets:
Cricut (Plantin Schoolbook and Calligraphy Collection);
Markers:
Copic;
Floss:
DMC;
Sketch:
Scrapbook Generation
I love this picture! I started with two-page sketch #25 and combined all the smaller photos into one breathtaking picture.
Variations
1. Instead of flags, I created sign posts to embellish this incredible two page picture of Moraine Lake (located in Banff National Park, Canada)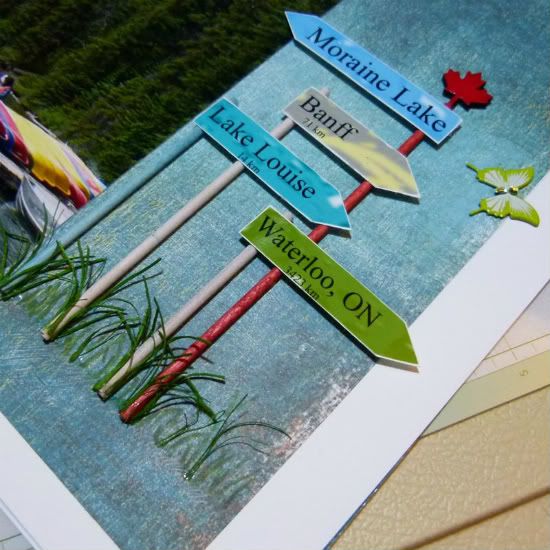 2. I enlarged the add-on to compliment the picture.
3. Using green floss and some white glue, I made grass to help ground the sign post.
This layout has some history. I had originally planned to submit it for two-page sketch #25 ... but I wasn't happy with the picture ... I had it printed at Walmart, and the beautiful colour of Moraine Lake was subdued, muted, the mountains grey and flat. I hated it. Moraine Lake is one of the most beautiful places I have ever been ... the picture HAD to be perfect ... so the layout stalled. And then, my husband suprised me with a new photo printer. This was the first enlargement I printed ... the difference was night and day! This picture is gorgeous. When I saw the add-on sketch, well, I knew it would work for this layout! I kept everything simple so that the picture would really pop!