Last week was two-page sketch week over at Sketch Support. I loved this sketch, and I love it even more after seeing what the rest of the creative team came up with ... I can hardly wait to use it again! Head on over and see the beautiful and inspiring layouts
http://www.sketchsupport.com/2012/03/two-page-week-part-4.html
Lynette posted 2 gorgeous layouts, and once again Carolyn created the absolute most beautiful layout yet, but then I always love her stuff. Anyway, here's mine, but first the sketch.
Two-page Sketch #26
It's so great, right? And here's my layout ...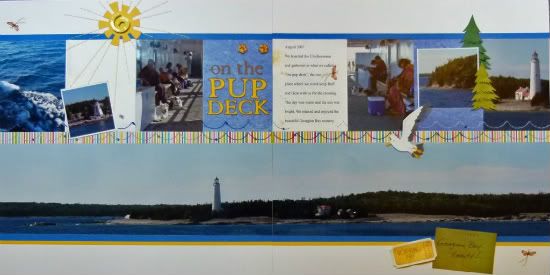 "On the Pup Deck" by Michele Edwards
Supplies - Cardstock: Bazzill; Patterned paper: Authentique, Bella Blvd; Embellishments: Jolees (seagull, trees and pawprints), Kaisercraft (ticket), Susan Branch (mayflies); Alphabets: Cricut (Plantin Schoolbook); Floss: DMC; Beads: unknown

This is such an incredible sketch, I'll use it again and again. These pictures were taken from the deck of the HMS Chicheemaun as we crossed beautiful Georgian Bay. Dogs were only permitted in this area, other than in vehicles locked in the parking deck. No way were we leaving Ruff and Gem alone below deck, so we joined the other dog lovers, and their dogs on the "PUP DECK".

This layout is so me ... I loved that I could easily incorporate the panaramic picture of Georgian Bay, what an impact!

Variations

1. In this layout I stayed true to basic sketch, but combined all the photos across the middle of the layout into one long panoramic picture of Georgian Bay.

2. I used 3X4" photos in place of some of the rectangles across the top.

3. I stitched a double wave across the middle of the layout. I inserted blue glass beads randomly across the page to add sparkle to the waves.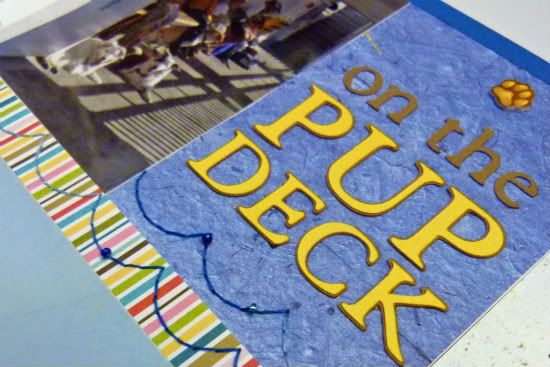 4. I moved the title into one of the 3X4" rectangles.

Stop back next week, cause I'm in love with the next layout ...