Last week was card sketch week over at sketch support. I just love what everyone did with the sketch!
Card Sketch #18
Aaaaaand this is what I did with it ...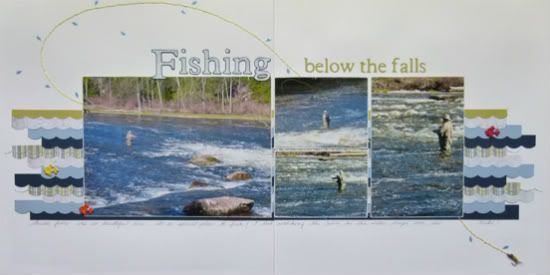 "Fishing Below the Falls"
by Michele Edwards
Supplies
-
Cardstock:
American Crafts, Bazzill;
Patterned paper:
Scrapbook Walls;
Fish brads:
unknown;
Embellishments:
fly was made by my husband;
Alphabets:
Cricut (Plantin Schoolbook);
Floss:
DMC
Spring has sprung, and that means that the trout fishing season will soon be here! We love our visits to Sauble Falls. My husband spends hours fishing, while I watch, both him and the river. I'm always amazed when I see the trout leaping up the falls! I can never get a photo of THAT though, lol!
Variations
1. Instead of a card, I turned the sketch on its side to create a background for my two-page layout.
2. I made the strips wider, and punched a scalloped edge to further the water theme.
3. I stitched a scalloped wave pattern through some of the waves, and continued the stitching into the photographs.