I'm a little late posting this week, another crazy week.
My layout went up on Sketch Support on Tuesday, but I've not had a chance to post it myself. I barely got my next project into Allison before the deadline!
Here it is, Two-Page Sketch #25.
Oh, I love this sketch! I had all kinds of great ideas. I was going to combine the photoblock into one giant picture ... and I even printed that picture, and then cut it wrong. I didn't have the time to deal with it. So I ended up with just this one ... which is so very cute! These pictures were taken during the early part of March 2011 when Alfie was still the new guy!
"Puppy Love"
by Michele Edwards
Supplies
-
Cardstock:
Bazzill, Bo Bunny;
Patterned Paper:
Basic Grey;
Embellishments:
Micro Beads from DeSerres, Paw prints are Jolees;
Ribbon:
KaiserCraft;
Alphabets:
Cricut (Plantin Schoolbook);
Floss:
DMC;
Misc:
Glossy Accents
Variations
1.
I loved the photo sizes in the sketch, and so didn't change them, I simply rearranged a few of them. I matted the entire photo block.
2.
I used ribbon for the vertical paper strips on the left side of the page. I tied a cute little bow near the top.
3.
I wanted the title to appear wet, like the letters were just lavished with puppy kisses, so I coated them with Glossy Accents.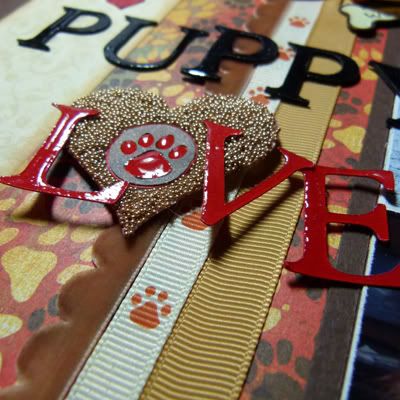 I used the microbead encrusted heart as the 'O' in the word LOVE, and floated the letters over the layout.
4.
I removed the journaling strips.
5.
Instead of flower embellishments on the right page, I stitched a curvey line across the layout and then placed little paw prints along its length.
Enjoy!